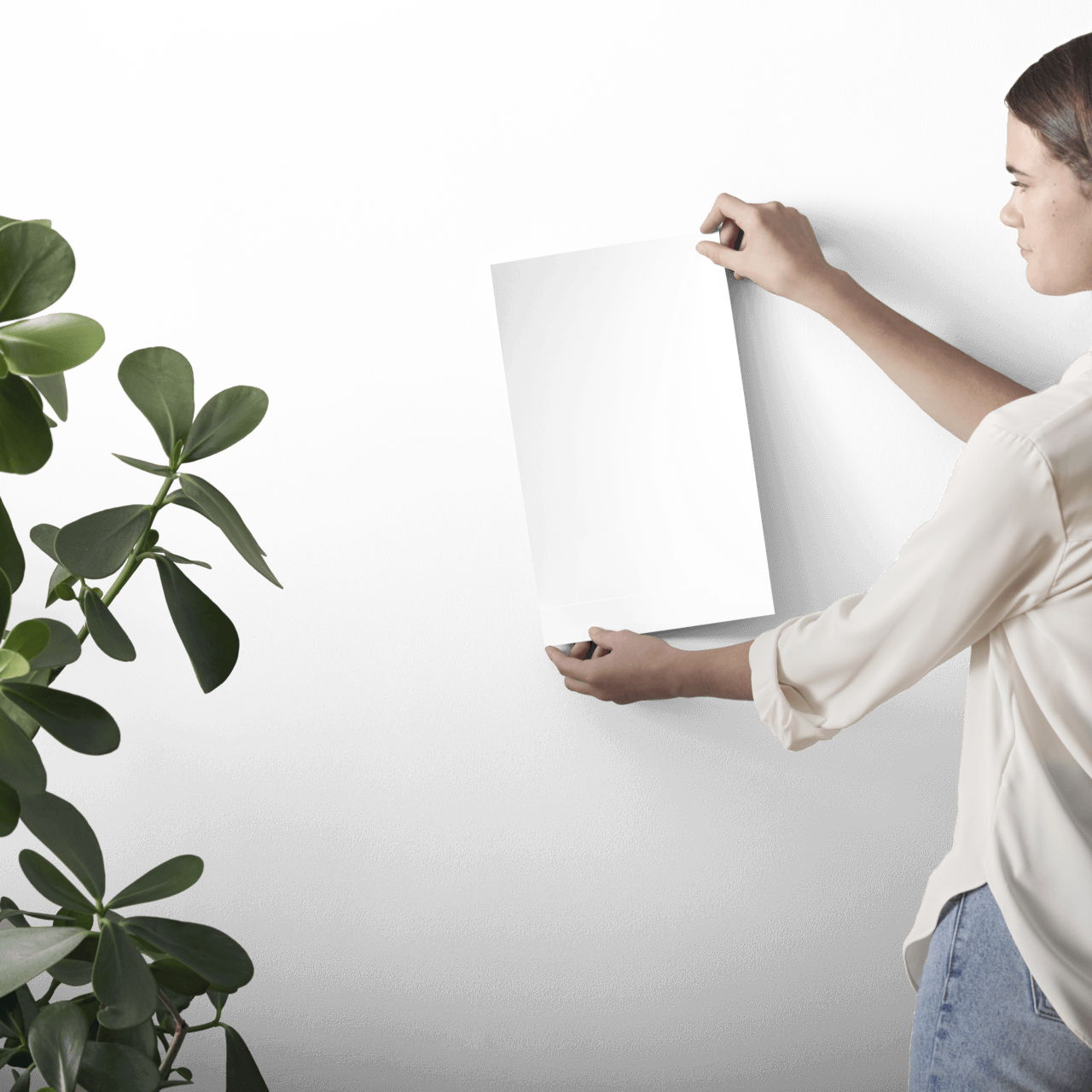 9"x14.75"
Peel & Stick Sample
Real paint without the mess. See the paint color in multiple locations and different lighting without marking up your walls.
Explore shades similar to Alabaster
Peel, stick, and repeat
Peel & stick samples are painted by hand with two coats of real paint, guaranteeing 100% color accuracy and zero mess. Each easy-to-peel sample includes one large and two mini samples, perfect for comparing palettes, adding to your mood board, and living with the hue before you—or your clients—commit.
Incredibly versatile
Experiment with the samples in a variety of locations
Wraps around corners

No-damage adhesive backing

Reapply over and over
The Sherwin-Williams Company delivers the best in paint and coatings products to the world. Every day, our more than 60,000 employees provide the energy and experience to build on our track record of success – enabling us to innovate and grow in new and exciting ways.
Explore Sherwin-Williams Samples
How it works
Select colors from your favorite brands.

Get your samples delivered the next day.

Peel, stick, and repeat to find your perfect match.
Does Sherwin-Williams Alabaster look yellow?
Alabaster is a soft, warm white paint color that is not yellow. It has a neutral base to it, which gives it its creamy color.
Is Sherwin-Williams Alabaster cool or warm?
Alabaster is a warm white paint color. The warmth comes across as soft and creamy.
Is Alabaster gray or beige?
Alabaster is a warm white paint color with subtle beige undertones.
What colors compliment Alabaster?
Pairing Alabaster with Pure White and Extra White by Sherwin-Williams will bring out the creamy coloring of the shade
FAQ
Alabaster is a soft, warm white paint color that is not yellow. It has a neutral base to it, which gives it its creamy color.
Real reviews from real people
Don't take our word for it. See what our customers have to say about us.
Before I drop $100 for a can of paint just to find out it wasn't what I thought, I figured why not try Samplize. Wow! Love the color choices, the fast service, even the quality of the samples themselves (not flimsy at all) Shared with my friends! Can't wait to paint!
What a concept! Cant wait to try this out for our customers.
Jarrettsville Painting LLC
I will NEVER go back to the old way of doing things! I can't believe how easy this was to order and how quickly they came! I ordered them yesterday and got them today!!!!! I'm so impressed!
These are awesome. You can place them on the wall you plan to paint to see how it will look, and then peel it off and try in other areas, such as next to drapes, furniture, etc. I highly recommend them
This is an amazing service. I ordered 6 samples yesterday, and they are all here today! SOOOO much easier than what I've done in the past (buy four small sample sizes, paint rectangles and look at the wall.) I am so glad I did this, as I was dead sure I wanted one color, and I'm going with a colo...
Keep up with all things color
Get our exclusive launches and designer collections.
By subscribing to the Newsletter, you agree to receive marketing emails from Samplize. You can opt out of marketing emails at any time by clicking the unsubscribe link found at the bottom of every Samplize email.