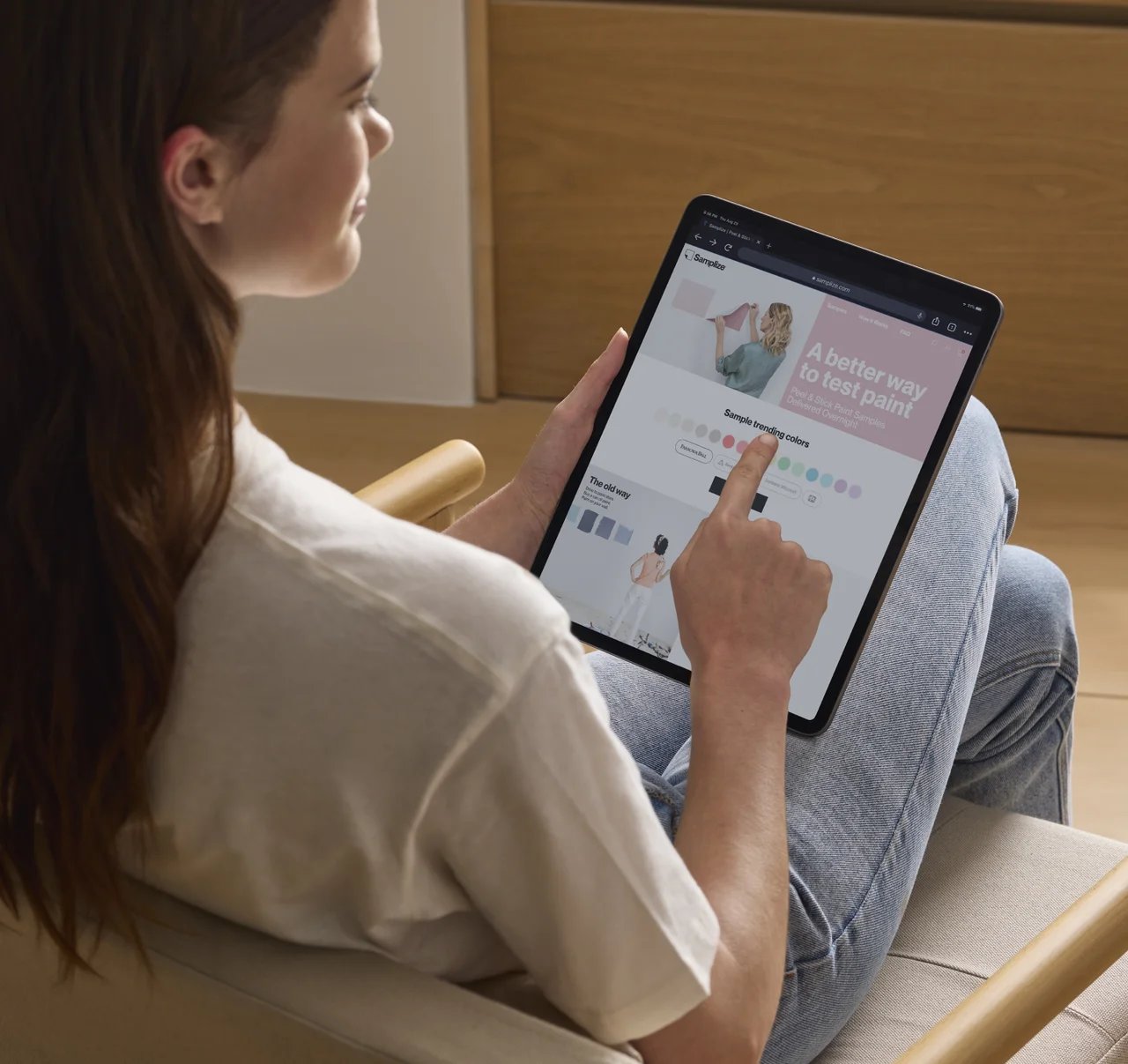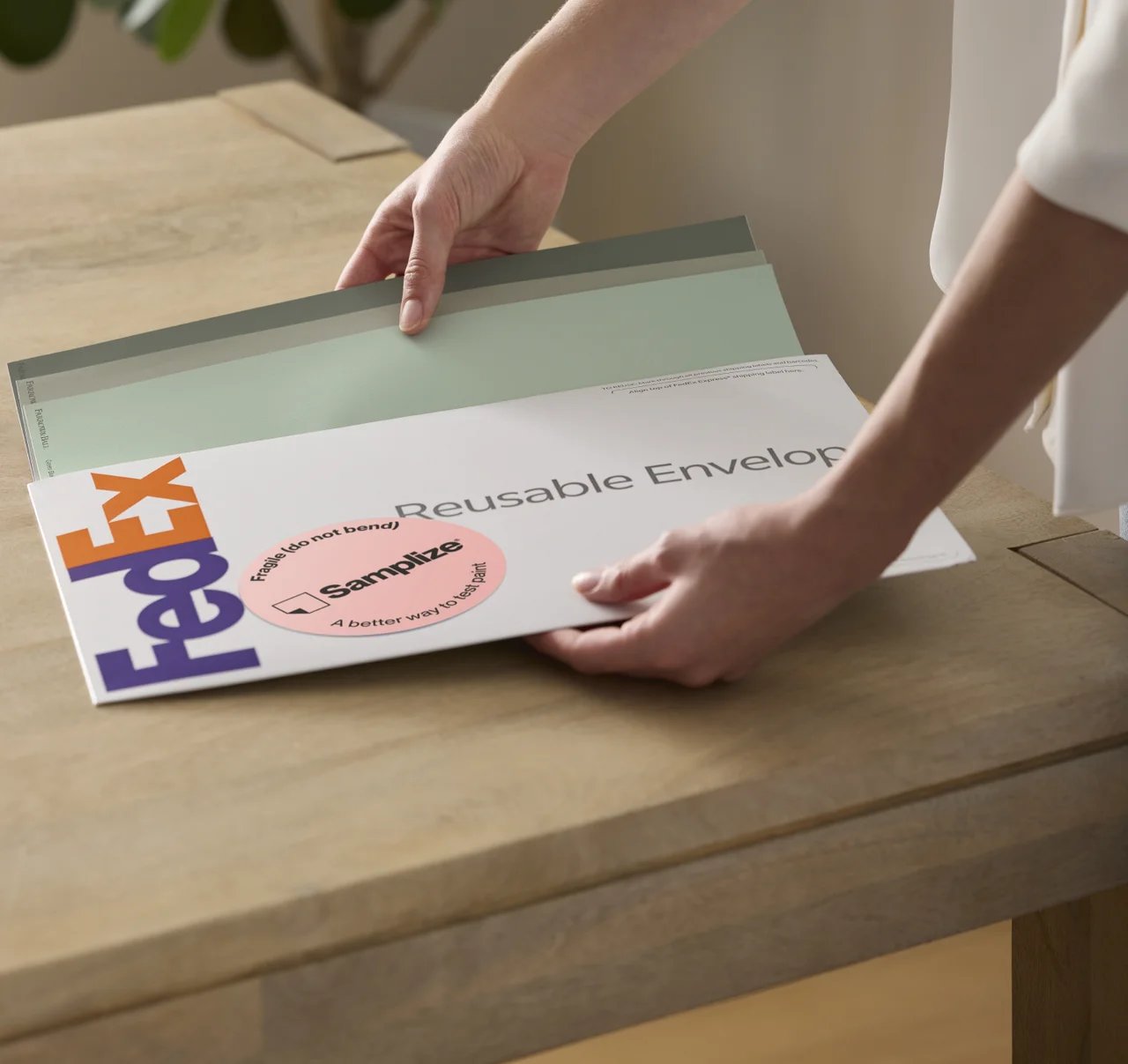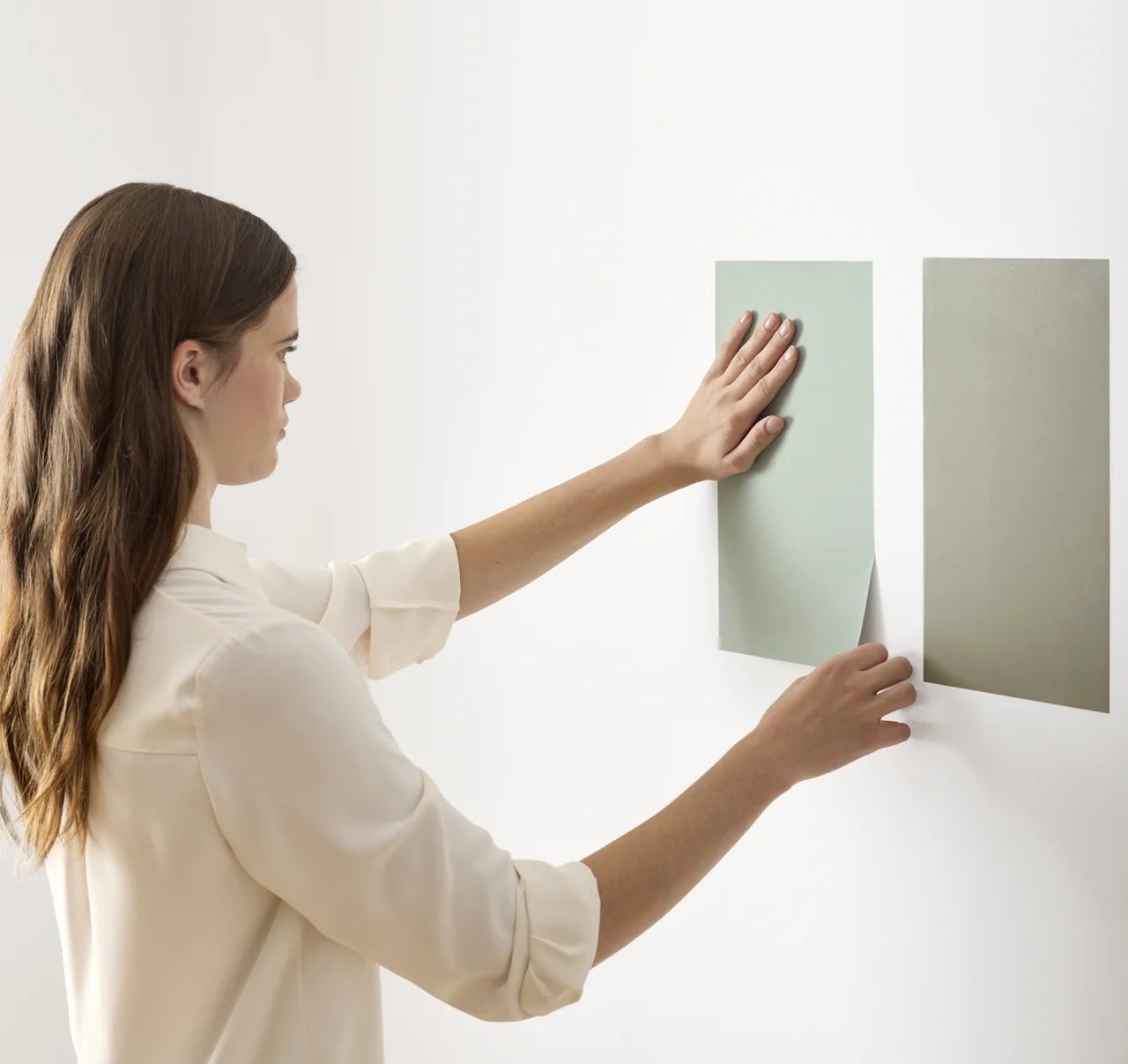 How it works
Select colors from your favorite brands.

Get your samples delivered the next day.

Peel, stick, and repeat to find your perfect match.
Real reviews from real people
Don't take our word for it. See what our customers have to say about us.
Quick shipment, nice large paint samples to stick on walls.
These are awesome. You can place them on the wall you plan to paint to see how it will look, and then peel it off and try in other areas, such as next to drapes, furniture, etc. I highly recommend them
Wow! This is a brilliant service. Exceeded my expectations, and I will be ordering more! The only way to go.
Great samples, excellent service, chose the samples one evening and they were at my door the next morning!!!
Easy to use and nice big samples!
Game changer when it comes to picking the best color!
Fast delivery and perfect samples. Thank you!
3 samplize samples were cheaper then 2 lowes liquid samples, and I paid expedited shipping so had it next day. didnt have to leave thr gouse, sand, prime, paint, and wait for it to dry. able to move it around. HOGHLY RECOMMEND. even its more expensive then sample paints. the ease is greag
What a great idea! No fuss, no mess and no extra paint! Thank you!
Arrived so fast. Perfectly sized sample and easy to place, pull off and move around the room to see color in different light.
Love these! The colors are beautiful and the samples are BIG! Helped me so much in picking colors for our new house.
Super easy to choose the colors I want to see, and they arrive quickly.
Amazing product and fast service.
Super quick delivery and love how you can move swatches all over room. Highly recommend!
Great selection and overnight shipping. Thank you!
ease of application shows color well versatile
I have had such great success with orders I've placed. The samples arrive promptly via Fed Ex and the website is so easy to navigate.
Easy, great samples. But expensive when you need several.
Genius idea! Could not have been simpler to get large paint samples the next day!!
Great way to test paint colors to choose just the right one! Very helpful!!
The sheets are a great size…you can really see how a color will be in a room. Highly recommend.
Easiest, most helpful thing ever. To be able to stick them to the wall and then peel them off and stick them in different areas with different lighting?! Game changer.
fast delivery and large samples!
Excellent source to facilitate design decisions
How great it is to get true to life color and in large swatches. Then you add that it's a sticker that you can relocate around a room to really get an idea how the color shows throughout the day. We haven't even mentioned the cost savings and space savings of not having a bunch of half empty sampl...
Accurate colors and fast delivery
Awesome product! Very helpful in deciding paint colors
Quick and easy order and delivery. Samples were large and even had a cut out that you can take to the paint store so they know exactly what you want.
Great Benjamin Moore paint samples! Easy to stick on a wall, peel off and move from room to room! No more sample pots and mess! Love these stick one sheets.
Very quick delivery. Large samples!
These samples make all the difference when trying to coordinate.
Fast delivery, great product!!
Color swatches came quickly , colors are accurate and pieces are easy to use , substantial sizes with peel off adhesive. Nice service for deciding paint colors!
Extremely fast delivery and great product samples!
Super fast delivery! The samples are of great quality and so much easier than to use paint sample!
These are really a game changer! They even overnight ship them to you. Y'all earned yourselves a new lifetime customer. Thanks!
Came SO fast - love my samples!
quick delivery. Large samples with little squares to pull off to bring to store
Awesome!!! Ordered one day and got them the next day!!! Yay! I will be ordering more very soon...great service and a feel good company that goes beyond. Thank you!
Fast shipping, and great size to see the color on the wall!
The fast service is fantastic. The samples are a really nice size to help choose the right color
Samples are perfect for decision process. They confirmed what we hoped would be the right colors.